Local Rates
(Knoxville/Maryville/Townsend/Greenback/Lenoir City)
Bartenders are $35.00 per hour with a $150.00 minimum.
Servers are $30.00 per hour with a $125.00 minimum.
Greater East Tennessee Area Rates
(Gatlinburg/Sevierville/Loudon/Athens/Morristown/Kingsport/Cosby/Oak Ridge/Clinton)
Bartenders are $40.00 per hour with a $160.00 minimum.
Servers are $35.00 per hour with a $150.00 minimum.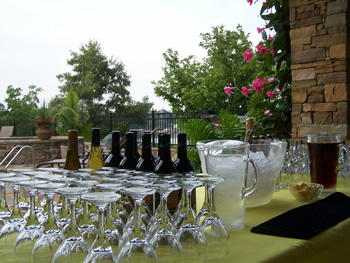 What We Provide
As of January 1, 2020, The Pour Guys is a staffing service only.  We no longer function as a rentals/supplies company. We are happy to help you determine exactly what all you need to buy or rent for your event, so don't worry, you don't have to do it all yourself!  For most of our clients, this is actually their most cost-effective option, and they save a good bit of money by renting/buying supplies themselves.
There are several amazing rental companies in East TN who are fully equipped to manage the logistics of multiple deliveries on any given day.  See them our Preferred Vendors page here.
We are now solely focused on providing highly qualified, professional bartenders and banquet servers for a wide variety of events.  We are proud to employ hundreds of the most friendly, helpful, courteous, kind and experienced staff who go above and beyond to ensure each and every event is managed properly and executed in the best way possible.
Need Liquor Liability Insurance?
If you need insurance coverage or simply would like the extra protection for the day of your special event, being named additional insured on The Pour Guys liquor liability policy is an option. The policy's term limits are for $1,000,000 per occurrence, and the rider fee is $150.00. Please contact us for further details.