About
My name is Jerry Kruse, the owner, and founder, of The Pour Guys Bartending Services. My service industry experience began in 1988 when I was employed as a fine-dining server by The Pacific Club, a private business club located in Newport Beach, California. While there, I was trained in 5-Star service and have fond memories of my 7 years working there. 
After moving to Tennessee in 1995 with my wife, Shelly, I had the opportunity to work at Cherokee Country Club as a fine-dining and banquet server while I earned a Masters Degree in Education from the University of Tennessee.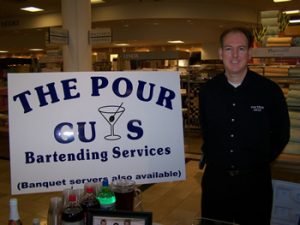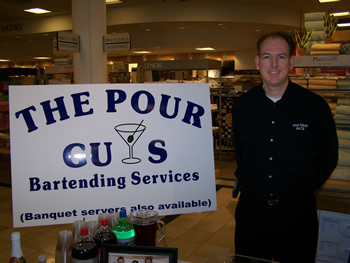 In 1999, I graduated from UT and began my teaching career with Maryville City Schools as a special education teacher. At that time, I also began working for various caterers as a server/bartender in people's homes and at private facilities. As the requests for my services increased, I realized that I would need to recruit additional help if I was going to be able to continue to provide a high level of service. That is when the idea of starting a business of my own was born. After consulting with my wife, and receiving her full support, The Pour Guys Bartending Services was officially established in January, 2007.
My goal for the business is to decrease my clients stress and to truly help them enjoy their event. To help make their event amazing and memorable. To never want to have another party without our assistance. So far we have been successful. We supplement the labor force of several local caterers as well as providing licensed bartenders and professional service staff for nearly any type of special event our clients might be planning. At the present time we average approximately 35 parties a month. No event is too small for us to work or too large to handle.
Here is a list of the types of parties/events we've worked in the past:
Wedding Receptions
Rehearsal Dinners
Baby Showers
Wedding Showers
Political Events
Fund Raisers
Birthdays
Anniversaries
Graduations
Tailgate Parties
Sit-down Dinners
Progressive Dinners
Employee Appreciation Parties
Office Parties
Wakes
and the "Just Because" Party
Please read our testimonials to see what our clients have to say about our service.